SATELLITE DEALERS RE SELLERS. MIGHTY MINI 5 PACK SPECIAL.
LIMITED TIME OFFER!
Satellite Dealers, Resellers here's your chance to make some money. Purchase our 5 pack of Mighty Mini ED positioners and have them on hand to sell to your clients. These retail for $179.99 each. Be the savior to your client when their Big Dish stops moving. At our 5 Pack price your paying only $169.00 each. Once Rainier sells out of all our stock there will be no more. And NOBODY has any new movers that work in North America anymore. These are 120 volt AC powered! Not some 240 volt foreign units. ORDER TODAY! LIMITED QUANTITY!
Works Flawlessly with FTA systems.
Donít Accept Imitations. Get the Genuine product
here. Only from Rainier Satellite!
EXTRA DUTY SATELLITE DISH POSITIONER
More Views
Mighty Mini ED 2023
Extra Duty Tracker
C band Dish Positioner
Item ID MMBDT-EX5
Dealer 5 Pack, $169.00 Each Unit

5 Pack Price: Only $845.00
Plus $250.00 Shipping. IN STOCK

Looking for the most powerful feature packed positioner
for your dish period? Look no further.
Strong - Simple - Easy Setup Dish Positioner.

» NEW Extra Duty 2023 Updated Model.
» Works Great with the Rainier D9865 Satellite System.
» Replaces the 4DTV dish mover in any system.
» Can be used for FTA to independently move your dish.
» Accurate, Dependable, Bug Free Operation for Large Dishes.

Improved ED 2023 Updated Model.
More Horsepower Under the Hood.
Moves up to 12 foot mesh dishes effortlessly.
Extra Duty High 3.7 Amp Design.
TVRO Home Satellite Approved.
#1 Most Powerful Positioner on the market.
Get your big dish connected to the worldís best mini tracker available on the market today. Improved for 2023. The New Improved Rainier Satellite Mighty Mini Extra Duty positioner supplies a powerful 36 volt high 3.7 maximum amperage current peak to your actuator for high torque accurate flawless movement. This is the highest amperage consumer positioner made today. Forget the low amp V Box, our Mighty Mini ED runs rings around it. Features a two digit numeric LED positional display so you know exactly where your dish is pointing. Four LED bar display operate in sequence to give quick indication to direction dish is traveling. Storing satellites is simple, press one button thatís it. Finding your favorite satellite locations is quick and easy with our direct remote keypad one button operation. Safety stop feature stops dish movement instantly by touching any key on the remote. The Mighty Mini can store up to 32 direct entry satellite positions in its non-volatile memory. Power outages can't wipe it out. Includes a fine quality full size IR remote. 120 volt AC operation. Replaces the Mighty Mini SD and HD. This unit does not control polarity for use with servo feeds.

Highest Quality:
The Mighty Mini offers the highest quality and value with features no other satellite dish Tracker Controller can match.
Large LED Display:

The Mighty Mini makes it is Easy to see what Satellite your on even across the room with its large green LED display.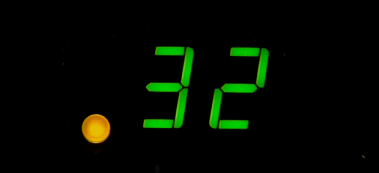 Dish movement and direction indicator:

The Mighty Mini makes it is Easy to see your dish is in motion and the direction itís headed. Utilizing four sequential bars gives you instant status reports of dish in motion condition and direction.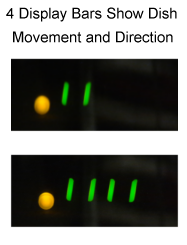 Features:
New Powerful 3.7 Amp Maximum Current moves up to 12 foot mesh dishes.
New Extra Duty Model (MMBDT-EX)
Power Punch for fast startup.
Powerful 36 Volts DC delivered to M1 & M2 terminals.
10 Amp 110 VDC rated dual motor relays.
Compact Design. (sits next to our D9865 receivers)
Super Simple Installation Setup.
One Button Direct Satellite Tuning.
32 Direct Entry Satellite positions.
Non-volatile memory.
Compatible with any Actuator including H to H using a reed, hall, or optical sensor.
5 volt rear terminal for optical sensor.
Electronic Overload Protection.
Anti-miscounting design.
Large "easy to read" Green LED Display.
LED bars show dish movement direction.
Full Size Remote and buttons, 37 Keys. Easy to use.
Countdown memory clear reset function.
Full Function IR remote control.
Dimensions 3.75" L, 11.0" D, 3.75" H.
AC Voltage in, 115v 60 Hz.
In Stock
Read the Mighty Mini ED Review from a Satisfied Customer Here
Order Today.
Can't swing the whole bill at once?
Use Paypal Pay in 4
For more information call us at 509-486-4137 Today.