C / KU Band Satellite Dishes
High Performance Commercial Quality.
No Supply Chain Issues. Custom Made in the USA.
IN STOCK ORDER TODAY!
Low Power TV Stations, Radio Stations our 9 ft is great for you.
Larger sizes up to 16.4 ft available.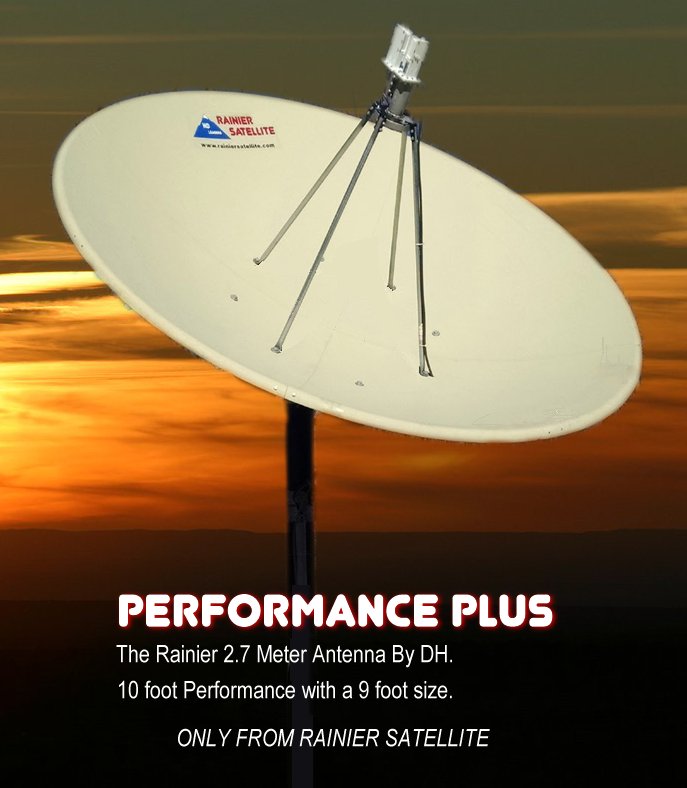 DH - 2.7 Meter 9 Foot Sectional Polar Mount Satellite Dish

TRUE Parabolic Performance Edition - Get 10 ft gain with 9 ft size

Item ID SA9FTDISH

As low as: $ 1,699.99
with AZ EL mount. Polar or other mounts extra.


Plus Shipping.
Common carrier low cost shipping,
depending on zip code low as $650.00
Rainier Satellite Special Performance Edition.
INCLUDED
9 foot, 4 section satellite dish, 39" ring
Feed support struts
Hardware
Base pole size 3.5 OD
Pole, LNB's, Feedhorn, and Actuator not included.

Get the signal in all weather with our high quality built 2.7 meter, Performance Edition 9 foot Spun Aluminum, 4 section Satellite Dish. Made in the U.S.A. by well known DH Antenna. Specify if you require a Polar, Az EL or Gilbralter mount when ordering. Accurate 9 foot solid reflector with tuned feed offers gain of 10 foot mesh antenna's at a smaller size. More HOA and neighbor friendly. Detailed instructions included. Installation helpline phone support direct with DH included with your purchase.

Designed with 8 precision cut templates as ribs.

A computer controlled machine is used to manufacture the ribs allowing them to have the exact parabolic curve of the antenna. The 8 generated ribs, also referred to as templates, are secured to the antenna prior to cutting the antenna into 4 sections. The templates allow for the antenna to be re-assembled and perform as a 1 pc. Extensive testing has been done on this system and our data shows no difference from a 1pc to the 4pc. Templates hold the antenna in shape so you are assured of a perfect antenna each time.

Shipped via common shipping carrier for low shipping cost. As low as $300.00 depending on zip code.
Quality Packed and Shipped - Easy Assembly

The four sections are professionally packed and shipped. Each panel is professionally machined.



Each panel has colored numbered dots for easy perfect alignment assembly. This obtains a perfect parabolic shape for maximum gain.
Get Ready. Prevent 5G interference problems with our satellite dishes.

Our SOLID TRUE Parabolic reflectors help block offending terrestrial microwave (Wmax, 5G) signals unlike mesh dishes. Team our dishes with our complete line of 5G filtered LNB's (coming soon) Don't let 5G get you down. Fight it with quality products from Rainier Satellite.
| | |
| --- | --- |
| Polar Mount | Connecting Sections |
C Band Measured Gain @ 4 Ghz.: 39.6 db
KU Gain @ 12 Ghz.: 49.2 db
F/D: .33 - F/L 36"
94 lbs
Hail resistant surface
Beamwidth (3.0 db) = 0.5 degrees (E-plane) 0.5 degrees (H-plane)
Beamwidth (10.0 db) = 0.9 degrees (E-plane) 0.9 degrees (H-plane)
First Sidelobe = 1.2 degrees
All Sidelobes > -26 db
Thickness: .090
Wind Force @ 60° @ 100 MPH: 3050 lbs.
3.5" OD pipe required. 5.5" pipe mount optional. (extra cost)
Shipped from Factory
Short on Cash? PayPal Credit Available.

---
→ TV STATIONS.

→ RADIO STATIONS.

→ BACKYARD DISH.

Need a larger Satellite Dish?

We carry them all.

10ft (3 meter) starting at $2999.99
with AZ EL Mount

12ft (3.7 meter) starting at $3699.99
with AZ EL Mount

Sizes up to 5 meter dishes are available. We can supply all the gain you need. Motor freight shipping only.

Contact us for more information and free general estimates. Call 509-486-4137


Serious inquiries.

Detailed quotes for dishes & shipping, additional equpment required for your install, or complete systems (serious buyers) are available for a $25.00 prepaid quote fee. This fee is deducted when you place your order. If you just have general questions contact us at: customersupport@rainiersatellite.net or Call 509-486-4137
---
Optional Mounts
Polar Mount

Track the full arc with our polar mount. Requires 24 or 36 inch actuator and Mighty Mini Positioner to scan the sky. Comes with stationary lock bar for one satellite operation.

Gilbralter Series Dual Powered Mount

Dual powered available for our 2.7 meter or larger. 5.5 OD pole required. Control both Azimuth and Elevation using 2 mighty Mini's from your easy chair. Never be off target. Track inclined orbit satellites Your always in charge with this option for our dishes.

Horizon to Horizon Mount

3.0 meter or larger dishes required. 160° of Travel Travel Time of 4 Min. 37 Sec. to Cover the 160° Arc Infinite Adjustments for Elevation for Precise Aiming Heavy Bronze Bushings for Extended Life Performance. 36 Volt DC Motor for Accuracy. Heavy Duty Gearbox w/Chain Drive Eight Back Braces for Stability Available in 16 tab design for both DH one-piece and sectional antennas.
Watch the video by DH Antenna about their quality manufacturing process