NEW! 9 Foot Belden Professional Solid Copper Jumper.

For frequencies up to 4.5 GHZ. Supports Ultra HD 4K signals. Get the Best Today.
PRODUCTS CHOOSE CATEGORY
Rainier / Cisco Satellite Receiver

Get our New 2017 D9865D model. Its the Best HD Receiver on the market today! Designed for Rainiers ULTIMATE HD Subscription Programming and FTA signals.

Order our Exclusive C Band Subscription Television Programming

Get our ULTIMATE HD C band Master Subscription Channels. View packages and Ala-Carte ADD-ON's here.

Renew Your Programming

DON'T DELAY. Renew your Programming 30 days prior to Anniversary date here to prevent interruption.

Avoid the $25 reconnect fee charged if your services have been deauthorized. Keep them active here.

Dish Movers / Actuators
LNB /Feeds

Upgrade your dish electronics with our high quality advanced products.

High Quality Satellite Dishes

High Quality C / Ku band Satellite Dishes for upgrades or new installs. Get the best signal from Rainier, Made in the USA.

Dish Hookup Supplies
Premium Coax / Wire / Switches

Premium quality switches and cables needed to get your Rainier or other satellite project up and running.

Complete C Band Dish System with Programming.

See our quote sheet with cost breakdown including finance options for everything you need to get up and running.
Need More Time to Pay? Financing Available through PayPal
Click banner below to apply..

---
| | |
| --- | --- |
| | See what Rainier's customers are saying about us... |



Take the guesswork out of what to buy. We only carry top quality tested merchandise.
Full Free Phone Tech Support with our Products and Services.
Announcing Rainier Satellite's
NEW Satellite TV Receiver!
Rainier Satellite is proud to announce we've just launched the latest NEW technology satellite receiver from Cisco Systems for viewing our Ultimate HD Subscription TV Service and FTA Satellite Television.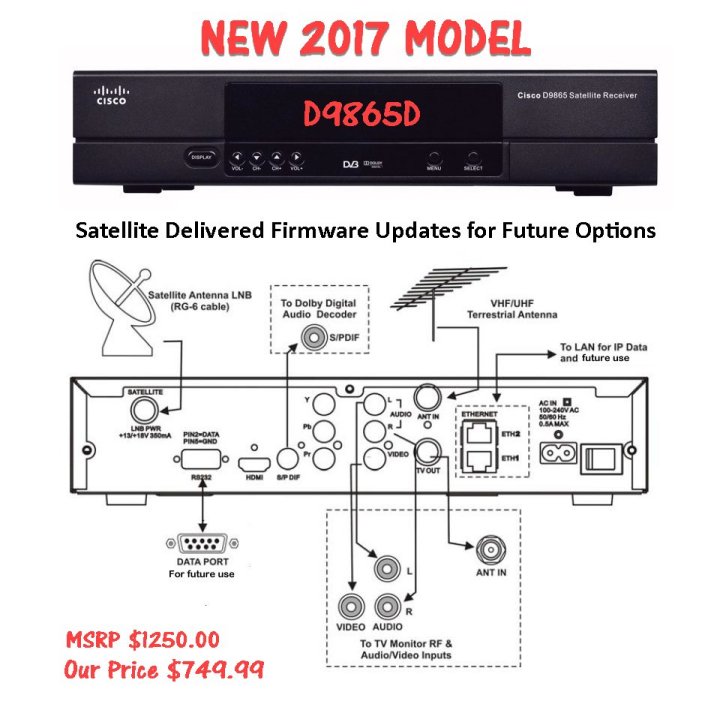 | | |
| --- | --- |
| We do not sell Cheap Chinese made poor quality dishes found at other places. | These Competitor Chinese manufactured dishes have been proven to be problem prone with many issues, including poor performance, to complete failure within a short period of time. Don't be fooled into purchasing attractive looking low cost Chinese dishes using paper thin steel on mounts and other poor materials. These won't last and will be a headache from day one. Go with a Proven Winner. Go with our high quality made dishes manufactured in the USA by DH antenna with over 30 years of Satellite Dish Manufacturing experience. All dishes sold by us come with full phone tech support from us and DH antenna. There never is any guess work with our dishes or associated products. Quality C band products can be quite an investment and Rainier Satellite wants you to be satisfied with your purchase down the road too. Were in it for the long haul. We only carry products that will last and perform well for a long time to come. For those who need more time to pay, Rainier Satellite offers PayPal credit to defer higher upfront costs associated with buying quality built long lasting products. |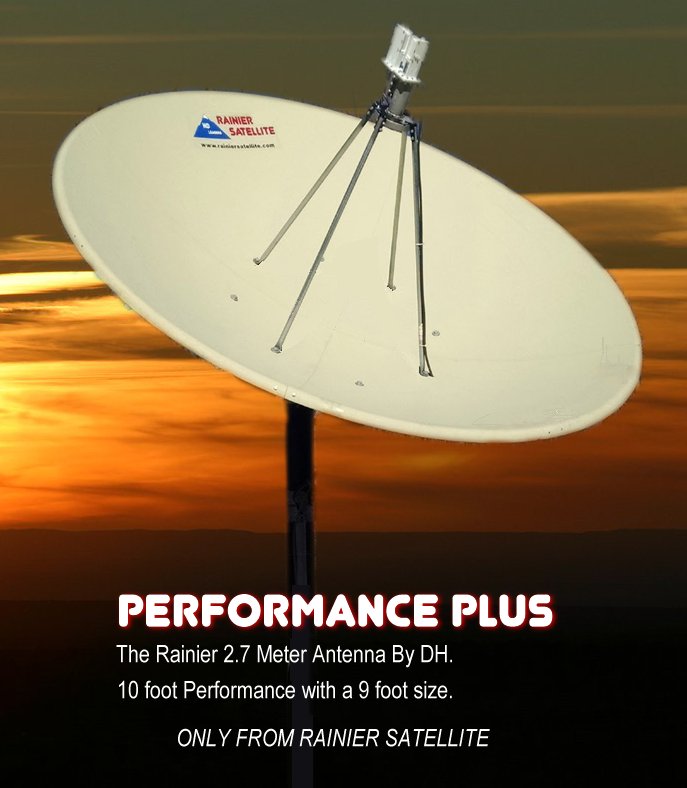 Rainier Satellite Exclusive - 9 Ft - 2.7 Meter Performance C Band Dish.
When your Done with the Rest, Get The Best!
Click Image Above for More Information
Were You a 4DTV Subscriber Orphaned Without Programming?

WE HAVE A SPECIAL PACKAGE JUST FOR YOU.
THIS WILL UPGRADE YOU TO RAINIER'S ULTIMATE HD TODAY!




4DTV Subscribers your subscription programming services ended August 24th 2016. Rainier Satellite is the ONLY C band Subscription TV Provider Now. WE'VE BROUGHT the ORIGINAL C BAND EXCITEMENT BACK! Were offering you an all in one package here to upgrade you to Our ULTIMATE HD Full Arc Platform. Don't Abandon C Band - Have you seen Rainier Lately? WERE THE FUTURE OF C BAND!



Click Here to Order our 4DTV PURE HD Upgrade Package.
NORTH AMERICAN SALES ONLY
Orders Shipped Via Fed Ex, UPS and USPS

Orders shipped out of the U.S. may require additional shipping costs.
You will be contacted after you order product if additional shipping costs are required.
You will be required to pay these additional costs before your order is shipped.
Don't See it? Contact Us about your other C band satellite equipment and install need's. Were able to get most products needed for your full C band install.

Contact: customersupport@rainiersatellite.net or Call 509-486-4137 for more information.
Online Sales Store Design © Rainier Satellite LLC 2013-2018 All Rights Reserved