Hookup Supplies, Cables, Switches, Jumpers




Professional Plus 1X2 Diseqc Switch

Item ID PRODISQ

Our price: $ 79.95

Plus Shipping.


Worlds Finest Lowest BER Diseqc Switch.

Outstanding rejection between inputs.
Rainier Satellite is pleased to now offer the world's finest Diseqc switch. We searched long and hard to come up a product that definitely performs to the high demanding standards Rainier expects, and we've found it. The Televes Diseqc switch provides a rock solid lock on those borderline signals. Ultra low loss, high isolating, low crosstalk design keeps digital bit errors away. This allows only the purest form of signal to get to your receiver. Upgrade today.

-Model 7268.

-DiSEqC 2.0.

-High-shielding Zamak chassis.

-Outstanding rejection between inputs.

-Very low through losses.

-Low current consumption.

-Supply voltage between 12 V and 20 V.

For use with our D9865D, H and B receivers, and FTA receivers.

Technical Specifications

Frequency MHz: 0 ... 2400.

Through loss dB: < 2.

Rejection inputs dB: > 23.

DiSEqC signal amplitude: Vpp 0,3 ... 0,9.

Power supply Vdc: 12 ... 20.

Consumption mA: 30 max.

Protection level: IP 20.

DiSEqC and ToneBurst Compatible.

In Stock

Order Yours Today.




9865 Multiple Room SMATV Kit

Item ID MROOM

Our price: $ 24.95

Plus Shipping.


Sends 9865 Picture and Sound
to multiple rooms through standard coax.
TV Antenna input for SMATV mini cable operation.
Low Loss High Isolation Design.
Turn your Home into a Mini Cable System.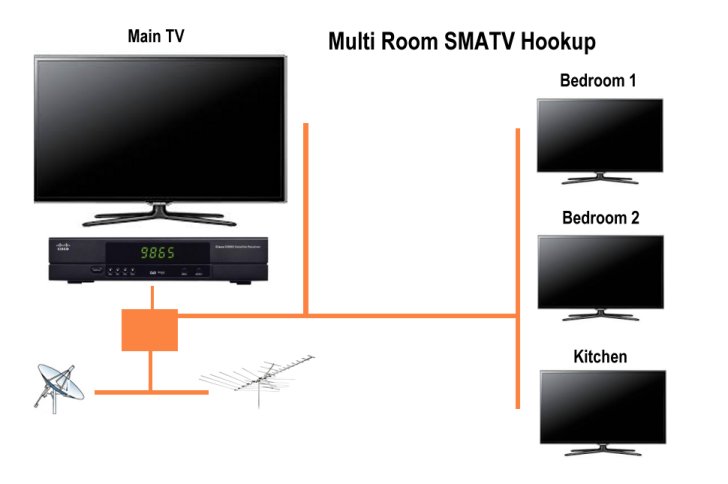 You now can send your Rainier 9865 receivers output signal to multiple rooms, and have your local TV channels all in one coax just like cable does. Rainier makes this easy with a built in transmitter inside the D9865 and this kit. Watch Rainier in the bedroom while the wife watches her favorite local program on your big screen. In house wiring, additional coax and TV antenna required for full SMATV operation. Instructions included.

High Quality Low Loss components.

For use with our D9865D, H and B receivers.

For SMATV operation a TV antenna is required.
Additional coax required if no in house wiring is in place.

In Stock

Order Yours Today.



9 Foot Belden Professional Solid Copper Jumper.

Item ID JUMP1

Our price: $ 15.95

Plus Shipping.

Look under the hood of our Professional Series Jumper...
100% Solid copper center core for maximum signal transfer.

Nitrogen-gas-injected foam polyethylene dielectric.

Dual shield, foil and braid give 100% shielding against EMI and RFI.

Heavy Duty self-sealing jacket prevents oxidation and moisture ingress.
Professional Belden low loss compression fitting is machine pressed on the coax then crimped.

75 ohm terminated for low SWR.

Each cable is tested for continuity and passes quality control before it leaves our facilities.
9 foot cable length assures proper SWR match from Diseqc switch to 9865 for trouble free performance.
9 Foot Premium Professional Quality Jumper uses a RG6u Solid Copper Center conductor for maximum conductivity. For use with frequencies up to 4.5 GHZ. Supports Ultra HD 4K signals. Belden RG6u is 4.5 GHZ swept tested. Professionally terminated with Belden low loss fittings to provide the lowest loss to your receiver. Keep your SWR's low for a perfect match. Solves reception issues. Get the best to connect your Diseqc switch to your 9865 receiver. Made in the U.S.A.
Custom lengths are also available. Contact Rainier Satellite for custom length pricing.
In Stock
Order Yours Today.
Wide Band Operation
Good Isolation

Premium Good Isolation 1x4 DiSEqC Switch

Item ID DISEQC

Our price: $ 19.99

Plus Shipping.

Pansat Premium Quality 4x1 DiSEqC Switch. Wideband 54~2400 MHz with Good Isolation between ports. This prevents interference and allows better C/N ratio to satellite receiver. Better overall reception with lower BER. These are the original Pansat model made by Pansat, not a cheap knockoff found elsewhere.
Connect up to 4 C & Ku LNB's or LNBF's.
Recommended for use with our D9865D, H and B receivers and other brand FTA receivers.
In Stock
Order Yours Today.
9865 Slave Kit

Item ID RSCK1

Our price: $ 24.95

Plus Shipping.

4DTV or Analog Receiver Deluxe Hookup Kit
Everything you need to slave your Rainier receiver to your 4DTV or other analog receiver mover.
Includes a Quality Low Loss High Isolation High Frequency Splitter and Compression Connector Jumpers made with High Grade 4.5 Ghz cable.
In Stock
Order Yours Today.





Dual Solid Copper Center RG-6 Coax
Ultra Low Loss - 4K Ready - Belden Brand
4.5 GHZ Swept Tested. The Ultimate!
Actuator 2 motor and 2 shielded sensor wires.

- Premium Belden Coax
- Actuator Control Wire

Item ID COAXACTPKG

Our price: $ 2.50 per foot together

Plus Shipping.

Get the Signal with maximum picture resolution with Rainiers Premium Quality Dual RG-6/U Type Precision Low Loss Serial Digital Video Coax by Belden. SOLID COPPER CENTER CORE (not steel clad center, copper coated like bargain brands) for maximum signal transfer. Better overall reception with lower BER. 4K Ready. Cables Made in USA. Works great with the Rainier Cisco D9865H Receiver.
Premium Actuator Control Cable has 18 AWG Stranded Motor Pair + 22 AWG Stranded Shielded Pair for sensor. Get accurate reed sensor counting using our premium cable. Works great with the Pansat AP-600 Dish controller.
Cables also available separately.
-Belden Dual Coax: $2.25 per foot.
-Actuator Control Wire: $0.95 per foot.