Can't find any Big Dish Positioners? Rainier to the Rescue!
We have the Best Big Dish Positioners in stock.
NO Waiting ORDER TODAY!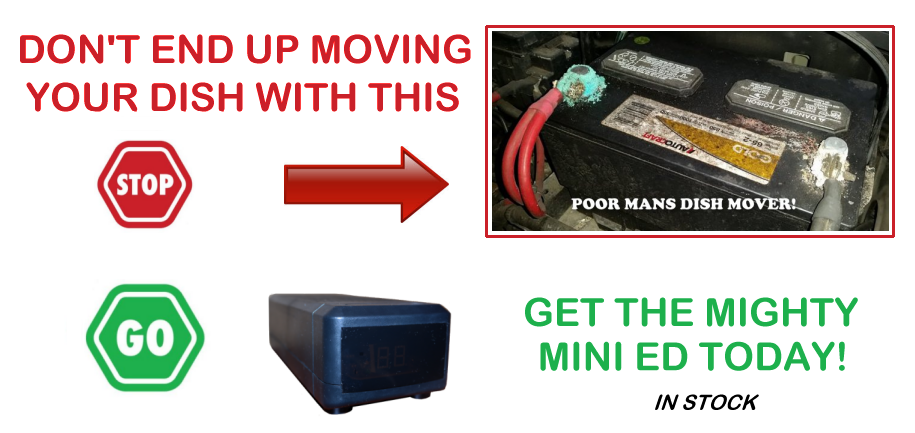 If you have a C band dish you know the importance of your dish moving to different satellites. Why take a chance of losing that. Get our Mighty Mini ED even if it's just for a backup. They're in stock at our Washington warehouse.
Our Positioners are DiSEqC Problem Free ...
TECH TIP
What is DiSEqC?
Its short for Digital Satellite Equipment Control a special communication protocol for use between a satellite receiver and a device such as a multi-dish switch or a small ku dish antenna rotor (Stab). DiSEqC was developed by European satellite provider Eutelsat.
FACT Is it needed with a big C band Dish?
Not Really. Some offshore FTA receivers claim to interface properly with its commands to move the dish with one remote control. Many times this information is incorrectly received and causes a host of problems. DISEqC protocol is sent using your coax cable. This will cause attenuation to your signal and is not recommended by Rainier. You want maximum signal going to your receiver. The best way to move a big dish is to use a DISEqC mover in manual mode.
Our Positioner's don't have DiSEqC circuitry and operate independently from your receiver. This setup assures no DiSEqC related problems, plus allows maximum satellite signal to your receiver for a better digital lock.

Our Mighty Mini and Primesat EZ 2000 Plus are DisEqC Problem Free.
They utilize manual mode with a simple interface, and cost less.
Works Flawlessly with FTA systems.
Don't Accept Imitations. Get the Genuine product
here. Only from Rainier Satellite!
MIGHTY MINI EXTRA DUTY SATELLITE DISH POSITIONER
More Views
Mighty Mini ED 2023
Extra Duty Tracker, Rev-B
C band Dish Positioner
Item ID MMBDT-EX
Rainier Webstore Best Price in 30 days
$179.99
12 sold in the last month.
Plus Shipping. IN STOCK
Looking for the most powerful feature packed positioner
for your dish period? Look no further.
FOR THOSE WHO DEMAND THE BEST!
Strong - Simple - Easy Setup Dish Positioner.
Programmable Linear Actuator Controller (for other uses).

» NEW Extra Duty Rev B 2023 Updated Model.
» Works Great with the Rainier D9865 Satellite System.
» Replaces the 4DTV dish mover in any system.
» Can be used for FTA to independently move your dish..
» Accurate, Dependable, Bug Free Operation for Large Dishes.

Improved ED 2023 Updated Model.
More Horsepower Under the Hood.
Moves up to 12 foot mesh dishes effortlessly.
Extra Duty High 3.7 Amp Design.
TVRO Home Satellite Approved.
#1 Most Powerful Positioner on the market.
Get your big dish connected to the world's best mini tracker available on the market today. Improved for 2023. The New Improved Rainier Satellite Mighty Mini Extra Duty positioner supplies a powerful 36 volt high 3.7 maximum amperage current peak to your actuator for high torque accurate flawless movement. This is the highest amperage consumer positioner made today. Forget the low amp V-Box II or, PR1200 V-Box Dish Mover (V-Box clone) our Mighty Mini ED runs rings around it. Features a two digit numeric LED positional display so you know exactly where your dish is pointing. Four LED bar display operate in sequence to give quick indication to direction dish is traveling. Storing satellites is simple, press one button that's it. Finding your favorite satellite locations is quick and easy with our direct remote keypad one button operation. Safety stop feature stops dish movement instantly by touching any key on the remote. The Mighty Mini can store up to 32 direct entry satellite positions in its non-volatile memory. Power outages can't wipe it out. Includes a fine quality full size IR remote. 120 volt AC operation. Replaces the Mighty Mini SD and HD. This unit does not control polarity for use with servo feeds. For updated polarity control solutions call Rainier today at 509-486-4137 to speak with a friendly customer service team member for available options.

Highest Quality:
The Mighty Mini offers the highest quality and value with features no other satellite dish Tracker Controller can match.
Large LED Display:

The Mighty Mini makes it is Easy to see what Satellite your on even across the room with its large green LED display.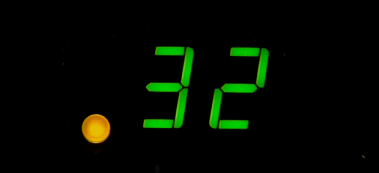 Dish movement and direction indicator:

The Mighty Mini makes it is Easy to see your dish is in motion and the direction it's headed. Utilizing four sequential bars gives you instant status reports of dish in motion condition and direction.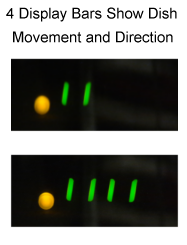 Features:
New Powerful 3.7 Amp Maximum Current, Rainier Exclusive.
Moves up to 12 foot mesh dishes easy.
New Extra Duty Rev B Model (MMBDT-EX)
Power Punch for fast startup.
No DiSEqC mismatch headaches.
Powerful 36 Volts DC delivered to M1 & M2 terminals.
10 Amp 110 VDC rated dual motor relays.
Compact Design. (sits next to our D9865 receivers)
Super Simple Installation Setup.
One Button Direct Satellite Tuning.
32 Direct Entry Satellite positions.
Non-volatile memory.
Compatible with any Actuator including H to H using a reed, hall, or optical sensor.
5 volt rear terminal for optical sensor.
Electronic Overload Protection.
Anti-miscounting design.
Large "easy to read" Green LED Display.
LED bars show dish movement direction.
Full Size Remote and buttons, 37 Keys. Easy to use.
Countdown memory clear reset function.
Full Function IR remote control.
Dimensions 3.75" L, 11.0" D, 3.75" H.
AC Voltage in, 115v 60 Hz.
In Stock
Read the Mighty Mini ED Review from a Satisfied Customer Here
Order Yours Today.
Can't swing the whole bill at once?
Use Paypal Pay in 4
Click Here for Dealer 5 Pack Option
NEW! EZ-2000 PLUS SATELLITE DISH POSITIONER




REPLACEMENT FOR JAEGER, SUPERJACK, MOTECK V-BOX I/II/III, V-BOX 7, PRIMESAT V-BOX PR1200.


Don't Accept Imitations! Get the Rainier Satellite
US Version only from us for less.




EZ 2000 Plus
Low Price Satellite Dish Positioner.
NEW! -- RAINIER SATELLITE EXCLUSIVE!

| | |
| --- | --- |
| | EVERYDAY LOW PRICE! |

Only: $149.95 Plus Shipping.

23 sold in the last month.

JUST THE LOW COST MOVER YOU BEEN LOOKING FOR!

Works with all C band FTA and Subscription receivers. No DiSEqC mismatch headaches. Why settle for something used or 240 volts from offshore, no voltage converter needed. These are US units, brand new and work on 110 to 125 volts AC for North America. Standard US Plug. Compatible with all kinds of Actuators and H-H mounts. Drive mesh dish size up to 3.6m. Fine-tune function for better reception. Anti-noise circuit to avoid miscounting. Full function IR remote control. Programmable 32 Satellites Direct Entry Remote. Short-circuit protection. Output Voltage 36 VDC. Output 3.5A IPC Max. Main Supply Voltage AC120V / 60Hz. Power Consumption 80W. 2 digit LED display, 4 digit LED dish moving status bar.

Contents:

1 x EZ-2000 PLUS Positioner, 1 x Remote Control, 1 x Manual.



OEM BRAND NEW!
FULLY TESTED BEFORE SHIPPING!
EXPERTLY PACKED AND SHIPPED!



In Stock
Order Yours Today.
Short on Cash? Pay in 4 and PayPal Credit Available.
$149.95
Everyday Low Price!
Item ID PS2000
Due to a steel cost surcharge actuator prices continue to rise.
Order Today to lock in the best price!
Your Trusted and Leading Linear Actuators Manufacturer.
Over 50 Years in Linear Motion Products.
High Quality... Long Lasting... Made in the U.S.A.
In today's technologically advanced digital world, earth station satellite antennas require actuators with smooth movement and precision positioning. Our linear actuators are precision designed to deliver spot on accurate output. It is important to buy quality made in the U.S.A. actuators from a trusted manufacturer, and not some low performing Chinese knockoffs such as QARL SuperJack and others. Venture Mfg. is a trusted manufacturer of different types of linear actuators for satellite applications . Our satellite actuators are well-known for their reliability, long life, and high performance in harsh conditions.
Venture's sincere desire is to satisfy each and every one of our customers' needs has led us to this certification. Venture Mfg. Co. - ISO 9001:2015 Certified Company. We are honored to have achieved this and will continue to use the principles of this set of international guidelines to achieve success in our partnerships with our customers. Rainier Satellite is Proud to Offer these Outstanding Products from Venture Mfg. Company.
Venture Maxi Ball Screw Actuators.
With Heavy Duty Clamp.

Our price:

$495.99 - 36 inch

$475.99 - 18 inch

Plus Shipping.
This is a Special Custom Commercial Grade "Robust" Maxi Ball version sold only through Rainier Satellite for those with larger heavier dishes, or for those who just prefer a Cadillac vs a Chevy. Moves smaller dishes great too. This unit will provide years of reliable service.

Works Great with the Rainier DH 9 ft Satellite Dish and others.
Works Great with our Rainier Mighty Mini, V Box's, and others.
Accurate, Dependable, All Weather Operation for Large Dishes.
Commercial Grade Maxi Ball Screw Actuators Features
Venture's name is trusted and widely heard in the market place for precision made maxi ball screw actuators guaranteed with high performance. Featuring heavy wall steel construction and sealed chamber design, this actuator type from Venture provides you with high efficiency and high speed while executing heavy duty linear positioning applications
Heavy Duty Clamp Included... Stay on Target with Rainier's Actuators
Heavy Duty Clamp (included) insures no slipping or movement on tube that can change satellite target position. Other Satellite Actuators use low cost clamps that slip and will not allow precise targeting of satellite everytime you move the dish.
Our Ball Screw Actuators Exhibit the Following Unrivalled Features:
Rainier Satellite Exclusive Custom Version
Mates with Mighty Mini perfectly
Reed Sensor
Heavy Duty Clamp Included
Slip Clutch Design Prevents Over Run
Rugged steel tube construction
Easy-to-install
User friendly design and operation
5 pitch ball screw
1500 lb. capacity
Tube and gearbox easily taken apart for installation and service with simple tools
Interchanges with virtually all other actuators in the field today
Black E-coated outer tube and plated inner tube for superior corrosion protection
Plastic Pilot guide prevents metal to metal contact between the tubes
Forged steel end mount design with swivel and built in standoffs for ½" bolt mounting
Easy to install split clamp assembly for ½" bolt mounting
Mounting bolt kit included
Limit switches with single screw adjustment
Water drains and vents throughout for freeze protection
KU or C band compatible
36/24vdc motor
5 amps @1500 lbs @ 36vdc, 36 inch model
In Stock
Order Yours Today.
Short on Cash? PayPal Credit Available.
36 inch ... Rainier's #1 Top Choice ...
Item ID MAXACT36
18 inch ... Rainier's Low Cost Solution ...
Item ID MAXACT18



Norsat 3120
C band PLL LNB

Item ID NOR3120

Our price: $379.99

Plus Shipping.

Norsat 3120 C-Band High Stability PLL LNB.
Use with our 5G BPF's below for Excellent 5G Rejection Results.
Norsat 3120 High Stability PLL LNB. 3.40 to 4.20 GHz. LO Stability 1.0 ppm ±5 kHz. Noise Temperature: 20 K. Type F connector. The 3000 Series is Norsat's premium pro quality C-Band LNB. The preferred LNB for all C-Band applications.
Norsat LNBs are graded by Stability and Noise Temperature to provide the perfect balance between required performance and cost Proven reliability for lower lifetime costs. Excellent PLL LO stability to control receiver drift and employ lower bit rates or narrower space segment. Excellent Phase Noise to Lower Carrier to Noise margins, improving BER.
In Stock
Order Yours Today.
Short on Cash? PayPal Credit Available.
... Rainier's #1 Top Choice ...



Norsat 5150
C band DRO LNB

Item ID NOR5150

Our price: $199.99

Plus Shipping.

Norsat 5000 series DRO LNB.
... Rainier's Low Cost Solution ...
Norsat 5150 C-Band Digital DRO LNB, ±150 kHz.
Noise temperature: 15K
L.O. stability: ±150 kHz
Input frequency (GHz): 3.40 to 4.20
L.O. frequency (GHz): 5.15
Output frequency (MHz): 950 to 1750
The Norsat 5150 LNB is a great solution where wideband signals are your target. Works well in most C band installs. For narrow band signals or 5G problem areas we recommend our Norsat 3120 PLL LNB.
Call 509-486-4137 for availability.
5G Cell Tower causing your C band site interference? Filter out the offending signals with Rainier's 5G Band Pass Filters. Use with our Norsat 3120 LNB for the best solution or your existing LNB.
Need Technical Assistance with your 5G problems?
Use Rainier's Experienced Technical Support Consulting Services. We have the solution for your issues.
Learn More Here

HIGH PERFORMANCE.
APPROVED BY SES & INTELSAT.
TESTED PROVEN RESULTS IN THE INDUSTRY BY TV and RADIO STATIONS!
Our 5G filters work! while offshore low cost filtered LNB's, LNBF's, and Filters Fail.
With the introduction of 5G networks, C-Band frequencies will now be shared with a wider range of services. The resulting interference signals can be powerful enough to saturate the sensitive C-Band satellite receiving systems which may result in total loss of service.
Without a high quality properly designed bandpass filter, out of target frequency interference "overloads" the conversion or receiver's front end. The filter attenuation should be high enough (60 DB or more) to allow the bandpass frequencies to be received without interference. Our filters have been highly successful at eliminating the interference within the reduced C-band frequency range with only a 1.3 DB maximum insertion loss.
Alga Microwave has designed a filter that will clear portions of the C-Band spectrum to mitigate disruption and interference of existing services due to the reallocation of the spectrum to 5G transmissions. Available in either the "Blue" or the "Red" bandpass option, they can be used in both single and multi-feed receive antenna applications, are environmentally sealed, moisture resistant and are easily installed between the C-Band feedhorn and the LNA or LNB.
Download 5G filter specifications sheet
5G Red Interference Filter, 3.82-4.2 GHz In Stock ID: 5GRED
Our price: $463.99 Plus Shipping.
5G Blue Interference Filter, 4.0-4.2 GHz In Stock ID: 5GBLUE
Our price: $463.99 Plus Shipping.
Frequently Asked Questions about 5G Interference.
Q: Do I have a 5G interference problem?
A: If you previously received the signal well and all of a sudden is giving you problems it could be 5G has fired up in your area. 5G usually will show you a high signal strength with a "0" Quality and no signal lock, or Quality dropping to 0 every 5 to 10 seconds on your receiver.
Q: I get pixilation in my picture that comes and goes do I have 5G interference?
A: While pixilation can be caused by weak signal it could also be milder 5G. Check dish alignment. If all is correct you probably experiencing a mild form of 5G interference. If that's the case our filters will clean it up.
Q: I have a 8 foot or smaller dish. Will your filter help?
A: We recommend at least our 9 foot satellite dish or larger due to attenuation of satellite signal when using a 5G filter Rainier stocks 9 foot to 16.4 foot solid 5G rejection reflectors.
Q: Will any LNB work with your filter?
A: While any LNB could be used the best performance is achieved when using our Norsat 3120 PLL LNB.
Q: Do I need the RED or BLUE filter?
A: I depends what frequency signals range you need to receive. For maximum protection once 5G is fully deployed in 2023 we recommend the BLUE filter.
Download our 5G Interference FACT Sheet
DH COMMERCIAL H-V DUAL C BAND ORTHO FEEDHORN



DH Antenna Commercial Dual C-Band ORTHO Feed

Item ID DHORFEED

Our price: $219.99

Plus Shipping.

For stubborn 5G issues use this feed with our Blue or Red Filter's and Norsat 3120 LNB's.
High End Ortho Feedhorn.
DH Antenna Commercial Feed.
Model 1339.
Ortho Feed Requires Two (2) C-band LNBs.
High Gain Design Feed for High Gain and Excellent Rejection.
F/D .30 -.42
LOW VSWR 1.5 :1.0
Cross Pol Isolation 35db minimum.
Made in the USA.
The Dual C-Band High Gain Feed from DH Antenna enables horizontal and vertical c-band signal simultaneously. Improves performance and can be used for multiple C-band receiver installations. No servo motor to freeze up. Great for colder climates
Precision cast-aluminum body, scalar and waveguide. Mounts to button-hook, tripod and quad leg dish supports. Cast-in f/D gauge Adjustable scalar ring.
In Stock
Order Yours Today.
Short on Cash? PayPal Credit Available.
ADL COMMERCIAL H-V DUAL C BAND ORTHO FEEDHORN
ADL H/V C-Band ORTHO Feedhorn

Item ID ADLHV

Our price: $229.99

Plus Shipping.

ADL DUAL Port C Band Linear Feed
3.7-4.2 GHz

• Dual C Band Linear Feed
• Virtually No Signal Loss
• Prime Focus Feed Assembly

Features:

• 100% Tested
• Adjustable Scalar Ring
• Universal Mounting
• Cast Aluminum Construction
• Chip Resistant Polyurethane Power Coating

FREQUENCY RANGE: 3.7 - 4.2 GHz
VSWR; 1.5:1
F/D RANGE: .33 - .42
CROSS POL ISOLATION: 25 dB

Call 509-486-4137 for availability.
ADL COMMERCIAL H-V DUAL C Ku ORTHO FEEDHORN



National ADL Commercial C / Ku Band ORTHO Feed

Item ID ADLFEED

Our price: $499.99

Plus Shipping.

In Stock
Order Yours Today.
Short on Cash? PayPal Credit Available.
90 DEGREE FEEDHORN WAVEGUIDE
Harvard Scientific Tuned 90 degree C band Waveguide

Item ID WAV102

Our price: $37.99

Plus Shipping.

Tuned 90 Waveguide for Ortho Feeds.

Tuned design by Harvard Scientific for low loss. 90 waveguide elbow allows a cover to be used when using ortho feed with 2 LNB's. Can be used with other feedhorns such as Chaparral. Made in USA.
In Stock
Order Yours Today.
Special Order Items & More Products
Contact customersupport@rainiersatellite.net or Call 509-486-4137 for price and to special order yours today.

Don't See it? Contact Us about your other C band parts and install need's. Dishes, Actuators, Ribbon Cable & other Coax, etc. Were able to get most products needed for your full C band install.

Contact: customersupport@rainiersatellite.net or Call 509-486-4137 for more information.