Programming Authorization Steps
Concerning our Programming and Authorization of Pay Services:

Before sending this data to Rainier you must order programming with us here

You must have purchased the Rainier Cisco D9865 Receiver Directly from Rainier Satellite or a authorized Rainier Satellite sales dealer. 3rd Party unauthorized vendor receivers (not in our pool) cannot be authorized for our subscription services.

If your not receiving at least a 12 Quality you have an alignment or other issue with your system. Please resolve this to insure you get our channels. Rainier is not responsible for the reception you receive. If it is poor it will not work right. You can troubleshoot your reception problem with information found here
For encrypted signals security reasons we require the following step to be performed by you once you get your receiver hooked up and tuned properly.
Once you get everything connected, quick tips data programmed in, and receiving a quality level of 12 or better on our subscription channels we will need you to confirm the TID, UA, and RN numbers of your receiver to us. This can be found on a white sticker on the receiver carton and or on the bottom of the receiver.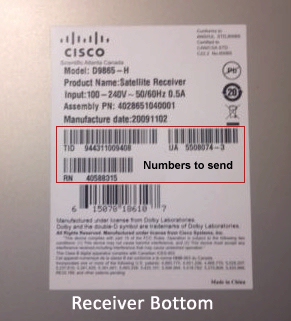 Please send activation@rainiersatellite.net an e-mail with this information and your full name, address and telephone number. NOTE: (You must have a physical residential U.S. street address for your programming. You cannot use a commercial address or PO Box). We will then add your information in the Rainier Cisco PowerVu database and get your receiver in the authorization stream. There is no need to sit on one of our subscription channels to be authorized while information is processed. Once your unique information is in the stream all you will need to do is go to a pay channel subscribed to, and wait a few minutes for a hit to be taken. You receiver will then authorize for that service and you will be able to watch it. You can enjoy FTA channels while you're waiting for the information to be processed by Cisco, the programmers, and us.
Authorization Cycle and Activation Process:
This applies to both first time authorizations and when you add ADD-ON channels or packages.
First time Activation e-mail requests and purchaces of ADD-ON services (upgrades to your basic service) received between the 21st of the current month and 20th of following month will be scheduled for activation beginning between the 1st and 30th of the following month. Different providers authorize on different days during your activation month. If you have not received all your programming by the end of the authorization month you're scheduled for, please contact our activation department at Rainier Satellite activation@rainiersatellite.net so we can look into this and resolve this issue for you. If you have any questions concerning this you can always contact Rainier Satellite's tech support.
Payment for your subscription goes into effect with your activation month's billing cycle. Yearly subscriptions will terminate at the end of 365 days, 12 calendar months from commencement, unless renewed 30 days prior to termination date. 2 years subscriptions will terminate at the end of 730 days from commencement, 24 calendar months, unless renewed 30 days prior to termination date. Rainier sends out reminder cards although it is your responsibility to contact Rainier to renew. Please do so in a timely manner if you wish to continue your subscriptions. If you let your subscription lapse and you're deauthorized, it will take another authorization cycle before your programming is resumed once renewal payment is processed. There is a $25.00 reconnect fee to reactivate your receiver if you let your subscription lapse and are deauthorized. You can renew subscriptions here. You must maintain an active lifeline basic subscription to continue any ADD-ON services. If your lifeline basic package expires and your ADD-ON services have a different anniversary date you will become deauthorized for ALL services including ADD-ON's until lifeline basic is renewed and once again in force. A $25.00 reconnect fee will be charged to restore all services. Once restored Your ADD-ON's will resume with lifeline basic. ADD-ON's will drop off gracefully if not renewed.
Rainier Satellite is not responsible for signal reception loss or issues caused by faulty receiving equipment, improper dish alignment, weather related issues, manmade interference, or other act of God on the receiving end. There may be brief technical outages due to programmers doing upgrades and transmitter maintenance. This is considered normal activity and no credit extensions are given for this. A channel, or group of channels must be out on our end for more than 24 hours, and the cost of credit must exceed $2.00 before we can issue a credit extension to your subscription. Rainier tries to resolve technical issues on our end ASAP. Our team works directly with the uplinks and programmers when an issue is reported to us. We want you to be able to enjoy your programming, and make your experience with Rainier Satellite as pleasant as possible. We work hard to achieve this.

Original owner's subscription programming is nontransferable. If for some reason you decide to sell or give away your Rainier Satellite receiver to another party it is your responsibility as the original owner to contact Rainier Satellite with this new person's updated information. Not doing so will render future subscription privileges by new party on said IRD invalid. IRD will be blacklisted and only function as a free to air receiver in this instance. If you are the new owner of a used original Rainier receiver bought from a party other than Rainier Satellite or one of its authorized dealers. You will need to contact the original owner to have them contact Rainier Satellite with your updated information to allow clearance for you to use this receiver to subscribe to our services. If it comes to Rainier Satellites attention that sold IRD is used for any non-legal purpose, including commercial on consumer account or if reverse engineering of software or hardware to circumvent conditional access system is done original owner and any subsequent party or parties will be held liable.
Channel removal or additions, content, or channel locations are subject to change without notice or compensation.
If you have any questions or concerns with connecting, setting up, or using your new receiver or programming please contact customersupport@rainiersatellite.net or call our Tech Support Hotline at 509-477-9270. Please have your Name and U/A number ready when calling.
Subscription services terms and conditions and activation process is subject to change at anytime without notice due to changes. Rainier Satellite reserves the right to do so.