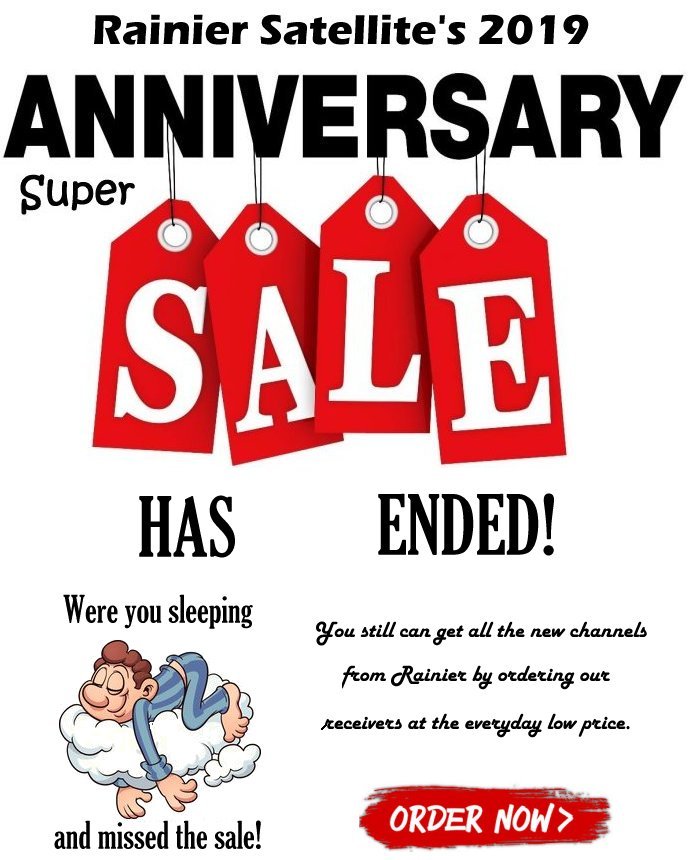 More Views Technical Details

Cisco / Rainier Encore D9865H
Commercial-Quality HD
High End Satellite Receiver

Designed with the latest Conditional Access Enhancements from the factory.

This sale has ended!

Order at normal price here

Plus Shipping.
Encore D9865H MODEL Over 4500 Receivers Sold
* New Firmware and Features
* High Definition Satellite Receiver
* 1440 lines of Ultimate HD Resolution
* Great for use with New 4K TV's
* Multiroom hookup to additional TV's (with add on kit)
* Capable of interfacing with future additional hardware that will be released
1 Year Basic Variety Pak Required for $499.99 price. See Subscription Channels


Apply For PayPal Credit Now
The Cisco/Rainier Encore D9865H satellite receiver is our NEW 2018 Version Commercial-Quality HD Satellite Receiver. Redesigned and updated by Cisco for todays and future needs. It's all you will ever need to enjoy the Rainier Full View Arc Subscription Commercial-Quality Broadcast Master channels and, Free-to-Air DVB & DVB S2 channels on C and Ku band satellite. The ULTIMATE HD picture quality is razor sharp and breathtaking. (1080i, 720p, 480p & 480i supported) Its commercial quality insures Free-To-Air channels will come in without lag, shudder, lip-sync or other anomalies that plague low cost FTA consumer-only receivers. Subscription TV channels continue to be released by Rainier and this is the receiver needed to enjoy them all. Grab it today and experience HD Satellite TV as it was meant to be.
* 4 Receivers in One:
Receives Rainier Subscription Commercial Broadcast Master Channels.
Receives All Freeview FTA Channels on C and Ku band.
Will Receive Rainier CA-Plus Subscription Channels to be added in the future.
Capable of adding additional hardware coming in the future.
HD / SD, DVB S, DVB S2, Mpeg 2, and 4, QPSK, 8PSK compatible.
PowerVu Conditional Access Decoder built in. Optional cam slot included.*
* Conditional Acesss Cam Slot included for use of CA-Plus Advanced Signal Security (coming soon).
These Encore D9865H receivers come pre authorized for the Rainier Satellite subscription pool, 3rd party D9865H non-Rainier-pool receivers cannot be authorized for our services. Receivers must be purchased directly from Rainier Satellite or authorized Rainier dealer for use with any subscription television reception.

In Stock
THIS SALE HAS ENDED!