Rainier Cisco Satellite Receivers & Accessories
SKYVIEW TV SATELLITE SUBSCRIPTION TV / FTA RECEIVER

Required for Reception of Our SkyView Television Channels
| | | |
| --- | --- | --- |
| Reasons to purchase the Rainier Satellite D9865 Receivers | Rainier D9865D | FTA Receiver |
| Receives SkyView TV C Band Subscription TV Channels | YES | NO |
| Receives ALL FTA (FreeView) Channels Reliably (No extra receiver needed) | YES | NO |
| Built to Last! Commercial Quality - Consumer Friendly | YES | NO |
| Full Free U.S. Phone Technical Support | YES | NO |
| 1 Year Warranty with Cisco a name you can trust | YES | NO |
| Automatic Firmware Updates Via Satellite | YES | NO |
| Modulates Receiver TV signal to multiple rooms | YES | NO |


More Views Technical Details

Cisco / Rainier D9865D
Commercial-Quality HD
High End Satellite Receiver

Designed with the latest Firmware and Conditional Access Enhancements from the factory.

Was: $949.99

New Low Price: $ 699.99


Plus Shipping.
NEW! 2023 D9865D MODEL ~ Replaces D9865H
NEW LOW PRICE.
* Receives Our New SkyView TV Channels
* SkyView TV Conditional Access Decoder Built In
* New Firmware and Features
* High Definition Satellite Receiver
* 1440 lines of Ultimate HD Resolution
* Great for use with New 4K TV's
* Multiroom hookup to additional TV's (with add on kit)
* Dual Ethernet Ports & RS 232 port gives additional features
* Capable of interfacing with future additional hardware that will be released

Buy Now Pay over Time
The Cisco/Rainier D9865D satellite receiver is our NEW 2023 Updated Version Commercial-Quality HD Satellite Receiver. Redesigned and updated by Cisco for todays and future needs. It's all you will ever need to enjoy the SkyView TV Subscription Commercial-Quality Broadcast Master channels and, Free-to-Air DVB & DVB S2 channels on C and Ku band satellite. The ULTIMATE HD picture quality is razor sharp and breathtaking. (1080i, 720p, 480p & 480i supported) Its commercial quality insures Free-To-Air channels will come in without lag, shudder, lip-sync or other anomalies that plague low cost FTA consumer-only receivers. Subscription TV channels continue to be released by Rainier and this is the receiver needed to enjoy them all. Grab it today and experience HD Satellite TV as it was meant to be.
* 4 Receivers in One:
Recieves Rainier Subscription Broadcast Master Channels.
Receives All Freeview FTA Channels on C and Ku band.
Will Receive Rainier CA-Plus Subscription Channels to be added in the future.
Capable of adding additional hardware coming in the future.
HD / SD, DVB S, DVB S2, Mpeg 2, and 4, QPSK, 8PSK compatible.
Premiere TV Conditional Access Decoder built in. Optional cam slot included.*
* Conditional Acesss Cam Slot included for use of CA-Plus Advanced Signal Security (coming soon).
These D9865D receivers come pre authorized for the Rainier Satellite subscription pool, 3rd party D9865D non-Rainier-pool receivers cannot be authorized for our services. Receivers must be purchased directly from Rainier Satellite or authorized Rainier dealer for use with any subscription television reception.
→ Download Premiere TV 9865 Setup Preset Tuning Data

In Stock
Order Yours Today.
NEW LOW PRICE $699.99
Was $949.99
Cisco Rainier D9865D HD Satellite Receiver Alone Order ITEM# RHD9865D
D9865 Owners Manual Download
Rainier Ouick Tips (startup guide) Download
When purchasing our receiver please download the above manuals for operation and setup. If you or your technician are not up to the task of programming the receiver yourself, please order our Data Pre Load Service below with your receiver purchase.
D9865 Data Pre Load Service



Our price: $ 149.95

Add on Service.
Get up and running fast with our turn-key solution for your new receiver. We pre load all the data needed to receive our channels in the receiver ahead of time. This allows you to start enjoying our channels without waiting as you learn and become familiar with the receivers operation. There is an additional wait of up to 7 business days added to your order processing time for this service.
Data pre load is limited to channels list we offer at purchase time.
In Stock
Order Today.
D9865 Data Pre Load Service Order ITEM# PLS122
D9865D / D9865H Optional Accessories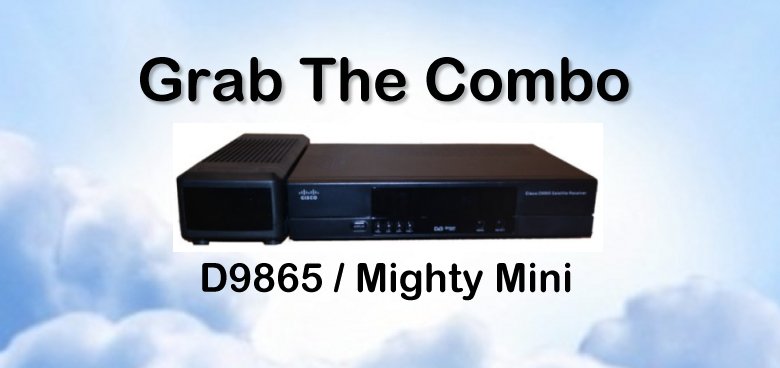 In need of a Dish Mover? Rainier Satellite is proud to announce the Ultimate Receiver / Mover Combo has arrived.
No more need for an old 4DTV or analog receiver to move your dish, Rainier Satellite now carries our Mighty Mini dish mover. This is one of the best bug free movers out there. It combines excellent with our Full Arc Platform and D9865 receivers for simple flawless dish movement.
You can read the review here
In Stock You can order yours here

View Larger

D9865 D / D9865H / D9865B Replacement / Second Remote Control

Our price: $ 74.99

Plus Shipping.
BACK IN STOCK! Hard to find. Cisco original replacement D9865 satellite receiver IR remote. Ideal for replacement or second remote.
In Stock.
Order Yours Today.
D9865 Second / Replacement Remote Order ITEM# RR9865




9865 Multiple Room SMATV Kit

Item ID MROOM

Our price: $ 29.95

Plus Shipping.


Sends 9865 Picture and Sound
to multiple rooms through standard coax.
TV Antenna input for SMATV mini cable operation.
Low Loss High Isolation Design.
Turn your Home into a Mini Cable System.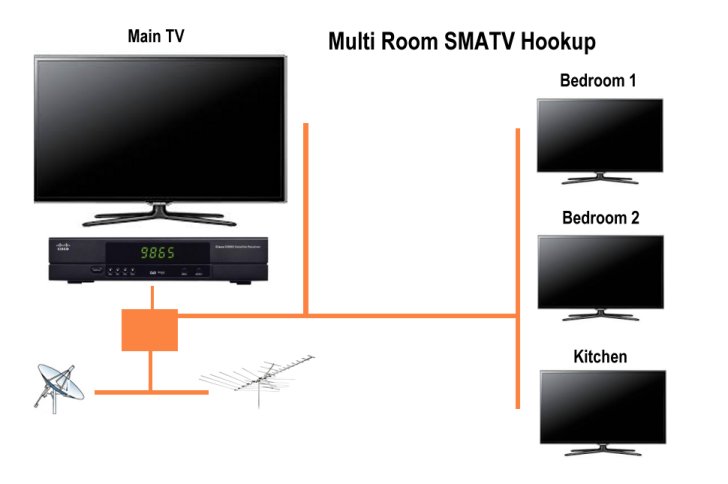 You now can send your Rainier 9865 receivers output signal to multiple rooms, and have your local TV channels all in one coax just like cable does. Rainier makes this easy with a built in transmitter inside the D9865 and this kit. Watch Rainier in the bedroom while the wife watches her favorite local program on your big screen. In house wiring, additional coax and TV antenna required for full SMATV operation. Instructions included.

High Quality Low Loss components.

For use with our D9865D, H and B receivers.

For SMATV operation a TV antenna is required.
Additional coax required if no in house wiring is in place.

In Stock

Order Yours Today.