LINKBOX 500i HD H.265 FTA/IPTV Satellite Receiver


FTA / IPTV SATELLITE RECEIVERS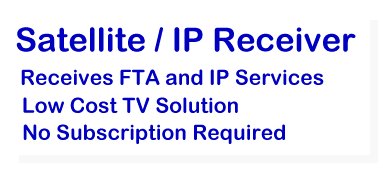 Linkbox 500i HD H.265
FTA / IPTV Satellite Receiver

Low Cost Inflation Buster TV Solution
Was: $179.99
Inflation Buster Price: $159.99
Plus Shipping.

---
FTA Receivers are getting hard to find so Rainier's come to thr rescue. The Linkbox 500i is a basic low cost solution to receive FTA Satellite and IP services. If your just starting out, looking for free TV or looking for a simple second receiver the Linkbox 500i is for you. No subscription required. Does not receive Rainier Satellite Subscription TV. Use our D9865 here for our pay programming. Availability of FTA channels may vary. Manufacture Warranty Applies.
Key Features




Fully HD up to 1080i/p
HEVC/H.265 Video decoding
WIFI support
Ethernet interface
BISS CAS Embeded
USB PVR ready : PVR / Time shift
Network Application supported : Youtube, Dailymotion, DLNA, Live TV, Weather forecast etc.
Automatic Firmware Update
NTP (Network Time Protocol)

Main Features




Fully Compliant of DVB-S & DVB-S2 (QPSK/8PSK/16APSK/32APSK) Digital & DVB broadcasting
Supports MPEG-2 MP@HL
Supports HEVC/H.265 MP@level 4.0 High tier
Supports H.264 BP (with no ASO/FMO), MP& HP@ L3/L4.1
Supports High Definition Video output : Digital Output
Full HD Resolution supported : 1080p, 1080i, 720p, 576p, 576i, 480p, 480i
Audio Decoding : MPEG-1 Layer1,2&3(MP3), MPEG-2 layer2, MPEG-2 AAC
Satellite Tuner : 950-2150 MHz Input Frequency, Symbol rate 1-45 Msps
Very Fast Smart Search (Blind Scan)
Demodulation : QPSK/8PSK/16APSK/32APSK
USB PVR Ready : FAT16 / FAT32 / NTFS Format function, Recording, Playback, EPG Time record, Time shift
Multimedia File Playback by USB : Movie, Music, Photo
Fast Channel Change (< 1second)
Supports Teletext subtile / DVB subtitle
10,000 channels TV & Radio channels
Channel Edittting Function : Favorite, Delete, Skip, Lock
8 Favorite List
User-friendly EPG(Electronic Program Guide)
16bits color OSD(On Screen Display)
Screen Format : 4:3, 16:9
Hardware Copy Protection
Software Upgrade through USB and Network.
Multiple LNB switching control : DiSeqC 1.2 and USALS Compatible
Network : 10/100M Full/Half Duplex Ethernet Interface supported
Automatic Firmware Update through Network.
Supports WIFI Remote Controller
DLNA supported
Network TV supported : LiveTV, M3U8 Player, User IPTV
Network Audio supported : Buddha audio, Quranic audio
Weather Forecasting

Tuner & Decoder




Tuner: DVB-S/S2 support
Frequency range: 950 ~ 2150 MHz
Input Level: -25 ~ 80dBm
Input Impedance: 75O
LNB Power: 13V/18V/OFF
DISEqC: 1.0 /1.2/USALS
LNB: 13/18V, 22 KHz Tone, DiSeqC 1.2 support
Demodulation: QPSK, 8PSK, 16APSK, 32APSK
Symbol rate: 1 ~ 45 MS/s

MPEG Transport Stream A/V Decoding




Transport stream: MPEG-2 ISO/IEC 13818-1
Input Bit Stream Rate: Max. 80Mbit/s @ MPEG2, Max. 60Mbit/s @ H.264/AVC
Video decoding:
  HEVC/H.265 MP@level 4.0 High tier
  MPEG-2 MP@HL
  H.264 BP (with no ASO/FMO), MP& HP@ L3/L4.1
  AVS Jizhun profile @ L6.0/ L4.0
  AVS Broadcast profile @ L6.0/ L4.0
  MPEG-4 SP Profile
  VC1 SP@ML, MP@HL, AP@L0~3
  H.263 baseline profile
Video output: Digital output
Video resolution: 1080p, 1080i, 720p, 576p, 576i, 480p, 480i
Aspect ratio: 4:3, 16:9
Audio decoding:
  PEG-1 Layer1,2&3(MP3), MPEG-2 layer2
  PEG-2 AAC
Audio mode: Stereo L/R

Main system




Main CPU: 32bit RISC CPU
Memory: DDR3 1Gb(128Mbyte)
Flash Memory: 8Mbyte SPI Flash

Front & Rear panel




LED: Power, Tuner Lock
USB: 1 X USB 2.0 Host Support
Ethernet: RJ-45

A/V & Data interface




HDMI: Support HDMI 1.4a (DVI mode support)

Power Supply




Type: SMPS
Input range: AC 110-240V, 50/60 Hz
Power Consumption: Max 20W
Standby mode: < 1W
---
$159.99
Item ID: LBX500
In Stock
Order Today.